Unit 52 – my art studio in Glenrothes

Learn from scratch, practice techniques and share your creativity with others. See below for the latest classes at Unit 52 Art Studio, Unicorn Way, Kingdom Centre, Glenrothes, Fife KY7 5NW.
To find out about my classes and courses at other venues CLICK HERE.
---
NEW REGULAR CLASSES in 2023 – first Saturday of each month
Following my last Line & Wash class, the enthusiastic students are looking to attend monthly classes, each with a different focus. These will still be open classes, so if you'd like to attend let me know ASAP, and I'll let you know if there's space.

I'll also be putting on other classes in between, so there will also be lots of other opportunities to learn. The focus of this first one – on Saturday 7th October – will be composition. See the poster, below.
TO MAKE A BOOKING:
PLEASE NOTE: As always, you'll need to

book and pay in advance online

as payment cannot be taken at the venue, or entry made to classes without the prior booking.
1. Email your interest to steve@stevebretel.com.
NOTE: as classes need to reach minimum numbers in order to go ahead, I'll only send payment details at that point. If numbers have not been reached, I'll notify you as soon as possible.
2. Once payment is received, I'll confirm your place with a welcome email, and look forward to seeing you at the class! 
HOW CLASSES RUN:
Each three hour class is £35 – all materials (top quality paper, brushes and paints etc.) and refreshments supplied. In each class I film my demonstrations, which are projected large scale so you can follow along with every detail. You'll also get lots of individual feedback and support throughout each class. Here's details of the next class on Saturday 7th October – 'Composing Paintings':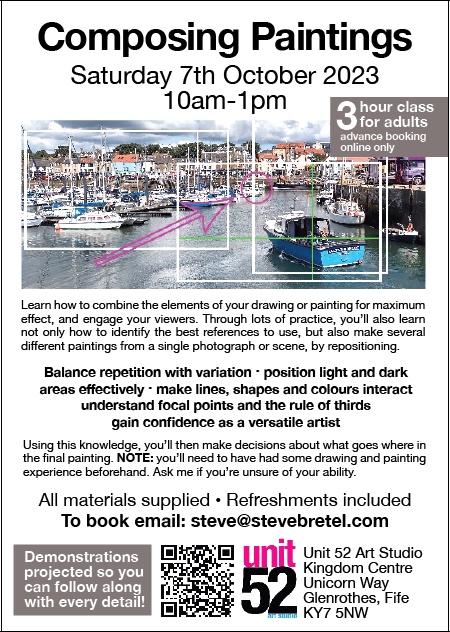 ---
Archived – previous classes below: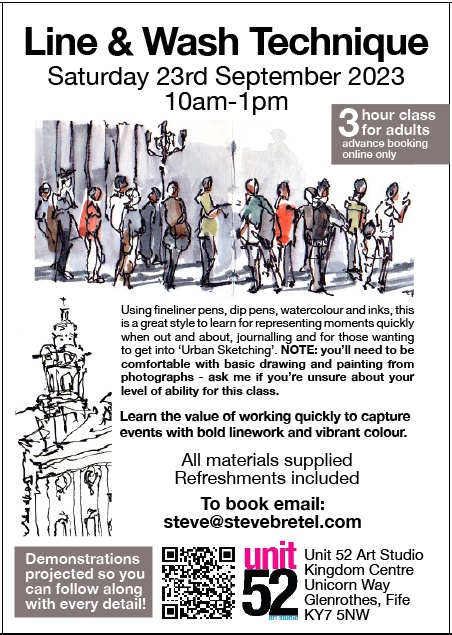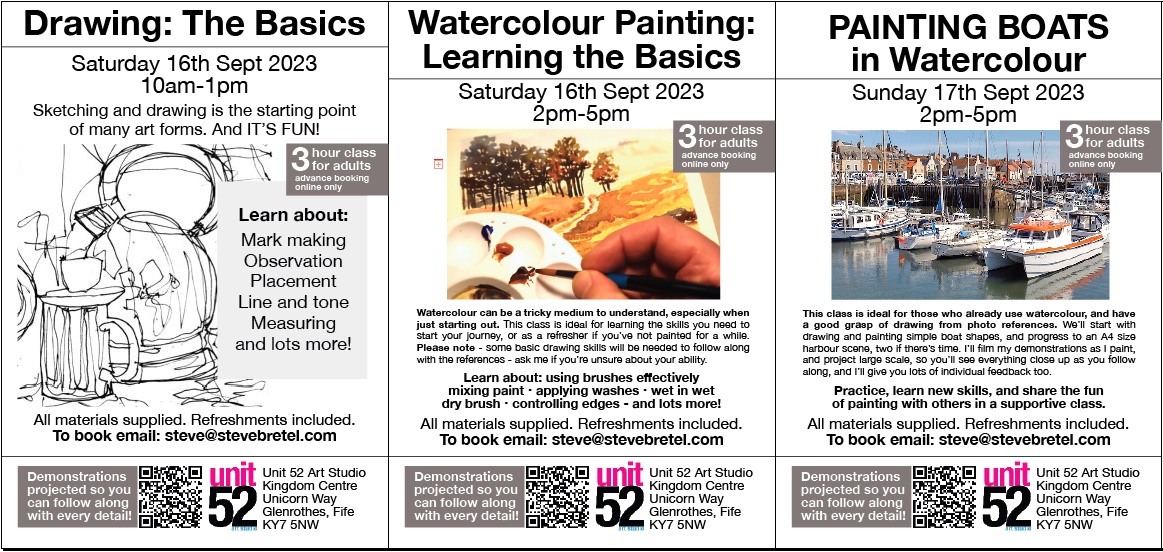 ---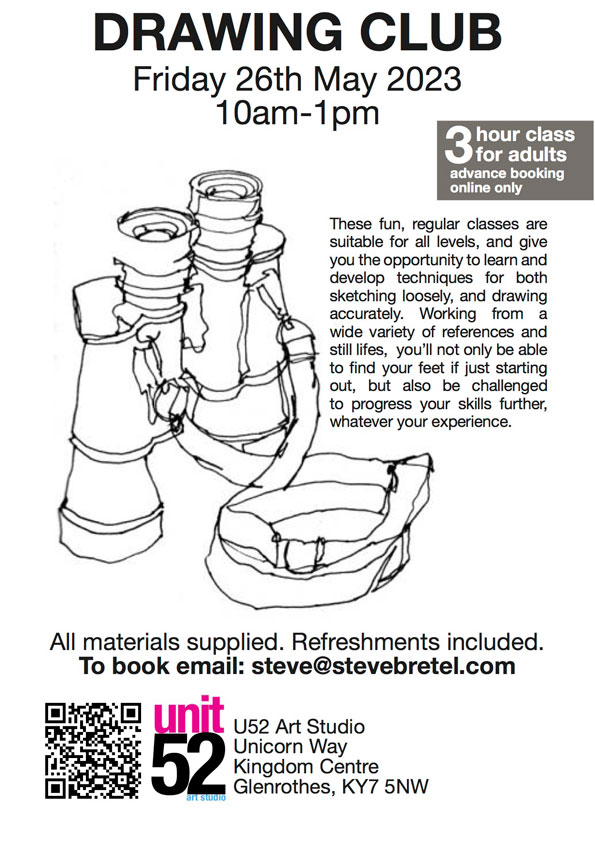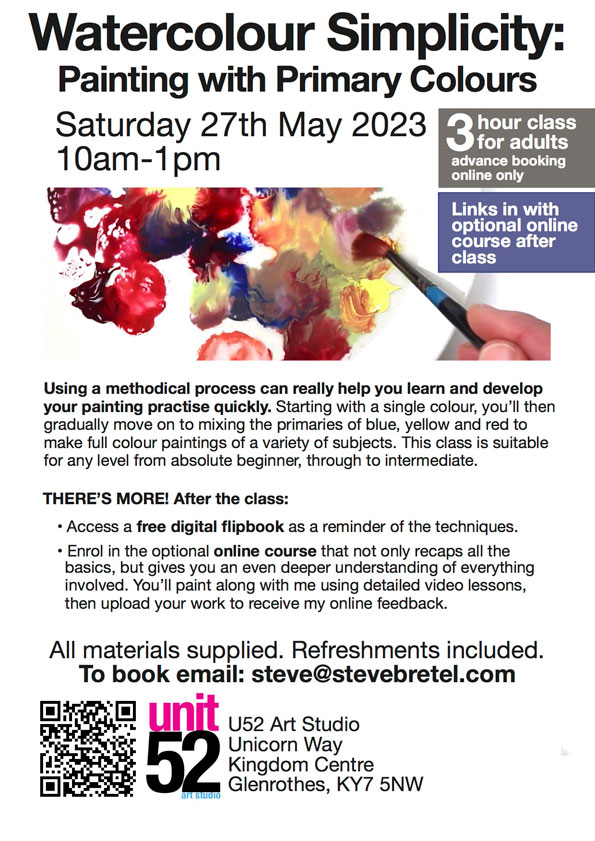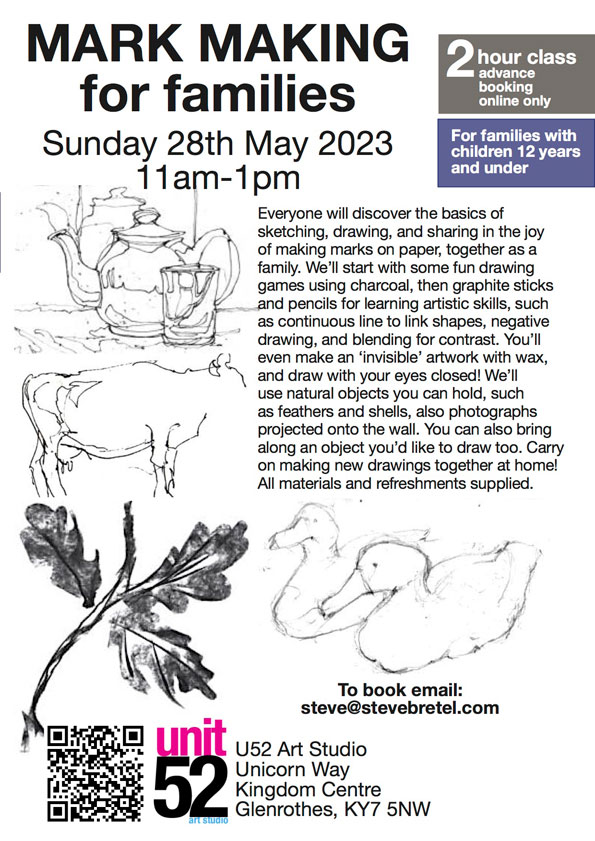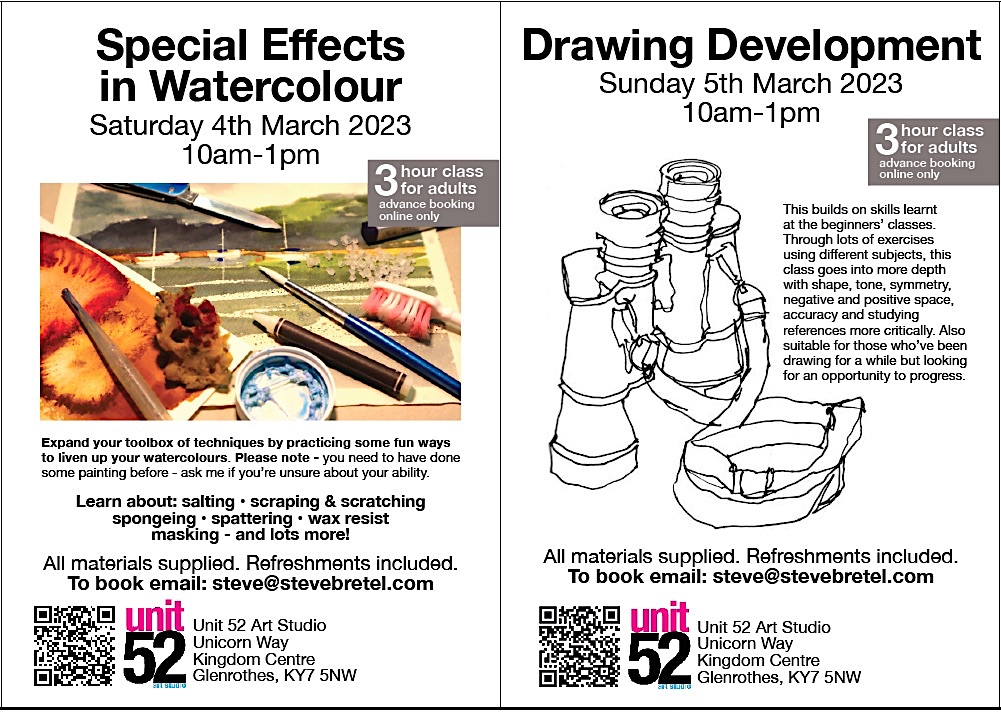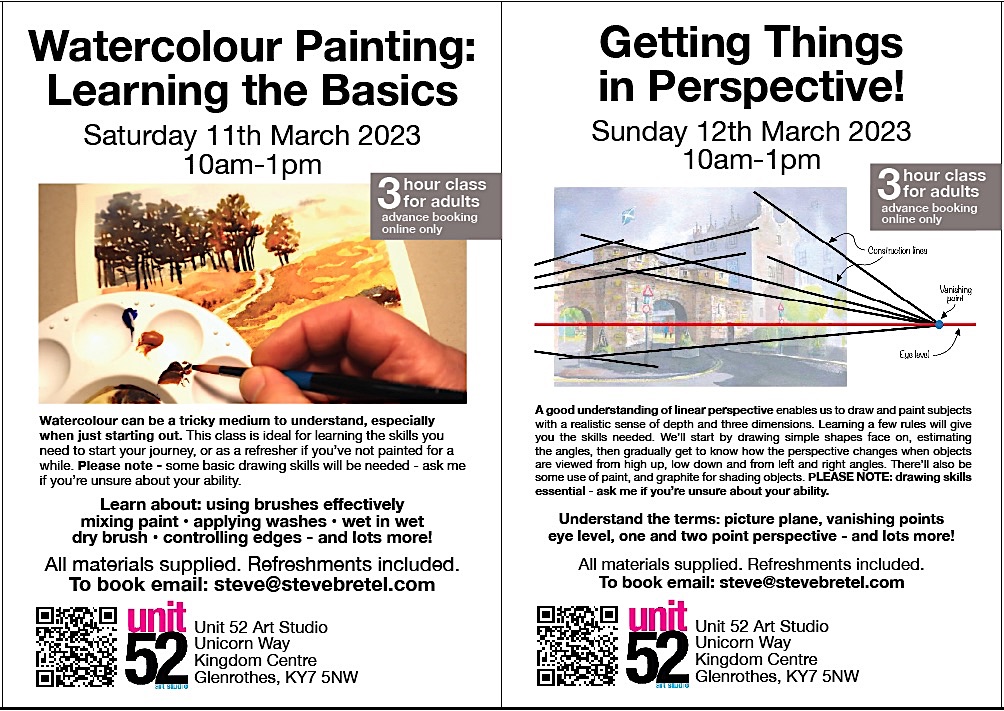 ---


ONLY A FEW PLACES LEFT on the Sunday class:
Next class Sunday 28th August 2022 – Watercolour Painting: Learning the Basics. Cost: £30. In this three hour class I'll explain the materials in detail, then use filmed close up demonstrations for you to paint along with, and projected photographs we'll use as our references. You'll get lots of positive feedback to give you the confidence needed to progress after the class.
There'll be a full range of specially chosen materials on hand to use. Refreshments included. You'll have made several paintings to take home, and a good grasp of the medium by the end of the session. Details as for the Saturday class below:
THE SATURDAY CLASS BELOW IS NOW FULLY BOOKED!
Next class Saturday 27th August 2022 – Watercolour Painting: Learning the Basics. Cost: £30. In this three hour class I'll explain the materials in detail, then use filmed close up demonstrations for you to paint along with, and projected photographs we'll use as our references. You'll get lots of positive feedback to give you the confidence needed to progress after the class. There'll be a full range of specially chosen materials on hand to use. Refreshments included. You'll have made several paintings to take home, and a good grasp of the medium by the end of the session. Details below: